Tonight the 2013 Tony Awards will be presented at Radion City Music HAll. Pippin has received 10 nominations, so I thought it appropriate to share some behind the scenes Pippin information, courtesy of
The Stephen Schwartz Scene
newsletter.
Carol de Giere
is the official biographer of
Stephen Schwartz's
remarkable career as composer, lyricist, producer, director, singer/songwriter. She also edits a quarterly newsletter for fans of Mr. Schwartz and his work. The current edition has just been published, and I am pleased to share excerpts with readers of
The White Rhino Report.
I encourage you to click on the link at thew bottom of the page, and to subscribe to the newsletter. Through our common love for
Pippin
and other things Schwartzian, Carol and I have become friends over the past few months, and I have come to appreciate the terrific job that she does in chronicling the many creative endeavors of Mr. Schwartz.
+ + + + + +
+ + + + + +
+ + + + + +
The Schwartz Scene Newsletter 50 – Spring 2013
THE SPARK OF CREATION: Stephen Schwartz Update and Events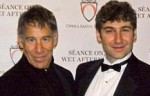 June 1, 2013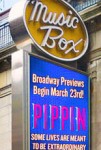 Tomorrow evening is a listening party of the new Broadway PIPPIN album for the cast, who I think will be pleased to hear how good they sound. It was fun to do a new cast album for several reasons: First and foremost, the new cast are all such good singers. I also think the new orchestrations by Larry Hochman are very imaginative, and it's nice to be able (with the longer time available on CD versus vinyl) to be able to include more of the dance music. On the original cast album back in 1972, it was so challenging to squeeze all the songs onto one disc, we had to compress "Morning Glow" greatly and slightly speed up "Spread a Little Sunshine" (to Leland Palmer's understandable annoyance.) It felt like such a luxury to be able to get over an hour of music onto this CD. . . .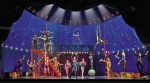 . . . And as far as the new Broadway production itself is concerned, to quote my friend Glinda, "I couldn't be happier". I had a wonderful time working with its creative and imaginative director, Diane Paulus, who managed to keep her cool through acrobatics, magic tricks, Fosse dancing, and literal fire. The result is a show that, in my opinion, is not only breathtakingly well staged and superbly performed, but which has a clarity of story-telling and a wellspring of emotion superior to the original. The whole experience was so positive that I found myself telling a friend after a rehearsal during previews in New York, "I worked on a Broadway show today and actually had fun!" (to which the reply was, "Who ARE you and what have you done with Stephen!?")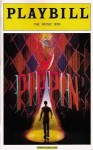 –Stephen Schwartz
+ + + + + + + + + + + + + + + + + +
BUY the Pippin album here: Pippin at iTunes
or pre-order the
Pippin Cast Album CD
Editor's note: if you're wondering what his comment "Who ARE you and what have you done with Stephen" means, find out by reading Defying Gravity. This creative biography includes the many challenges of Schwartz's previous Broadway experiences.
Enjoy!
Al
The Schwartz Scene Newsletter